Duration:8hrs( Mininum 6  people required to operate tour)
Departures: 9:00 am until 5:00 pm
Pricing: $140 per person (includes admissions, transportation and professional tour guide)
Meet point: pick up & drop off at downtown Portland hotels or pre-arranged locations
Pick Up Area Click Here
The Columbia River Gorge National Scenic Area protected by the National Scenic Act in 1986, the region is home to an incredible combination of spectacular landscapes & waterfalls, rare plants, wildlife, recreational opportunities, farmland, ancient Indian rock art, and other cultural and historic sites.
Your day will start with visits to several waterfalls including Multnomah Falls, the #1 visited tourist attraction in the state. You will enjoy the scenery around every corner of the Historic Columbia Gorge Waters.
Highlights:
Your hike includes views of gorgeous waterfalls in the Columbia Gorge National Scenic Area.
The National Scenic Area includes Oregon and Washington and hikes may be on either side of the Columbia River.
The Pacific Northwest forest offers, old growth firs & cedars, canopied covered trails, fern lined paths alongs creeks.
Spring hikes experience waterfalls at their fullest and spring flowers abound. Fall hikes view spawning salmon runs.
The Gorge is also host to a unique diversity of plant and animal life, including over 800 species of wildflowers, 15 of which exist nowhere else on earth. Your professional tour guide will lead you on several short to long hikes identifying plants and wildlife.
Hike through lush forests to secluded and often over-looked waterfalls that plunges into a deep bowl
Hike up a series of switchback that give views of the Columbia River on almost every turn
Hike up a basalt monolith 840 ft over planks and scaffolding that once was a volcanic core of a mountain
Hike along stream beds that offer swimming opportunities in summer, salmon runs in the fall & ice in the winter
Hike amongst tall evergreen giants to open fields of spring wild flowers
Hikers experience: "Where the forest trail ends, my imagination searches to find my dreams. When I look beyond the trees, I find the impulse to go where many cannot see. When I come back all I have is a picture forever etched in my memory. Then I wait until I can go again…"
On November 17, 1986, President Ronald Reagan signed into law the Columbia River Gorge National Scenic Area Act, the only stand-alone environmental legislation passed during Reagan's eight-year presidency. With passage of the Act, the Gorge became the first landscape to be specifically designated as a National Scenic Area by Congress.
Twenty-five years later, Friends of the Columbia Gorge and our partner organizations celebrated a quarter-century of landmark legislation that has protected the natural wonders and cultural history of the Columbia River Gorge, as well as supported the economies and communities of Gorge urban areas.The Columbia River Gorge National Scenic Area encompasses 292,500 acres, running from the mouth of the Sandy River to the mouth of the Deschutes and spanning southern Washington and northern Oregon. The Gorge is unique in its natural and cultural history, as well as its designation as a National Scenic Area. Every trail in the Gorge offers the opportunity to view stunning scenery. While some trails are quite steep, others are very family-friendly.
Itinerary: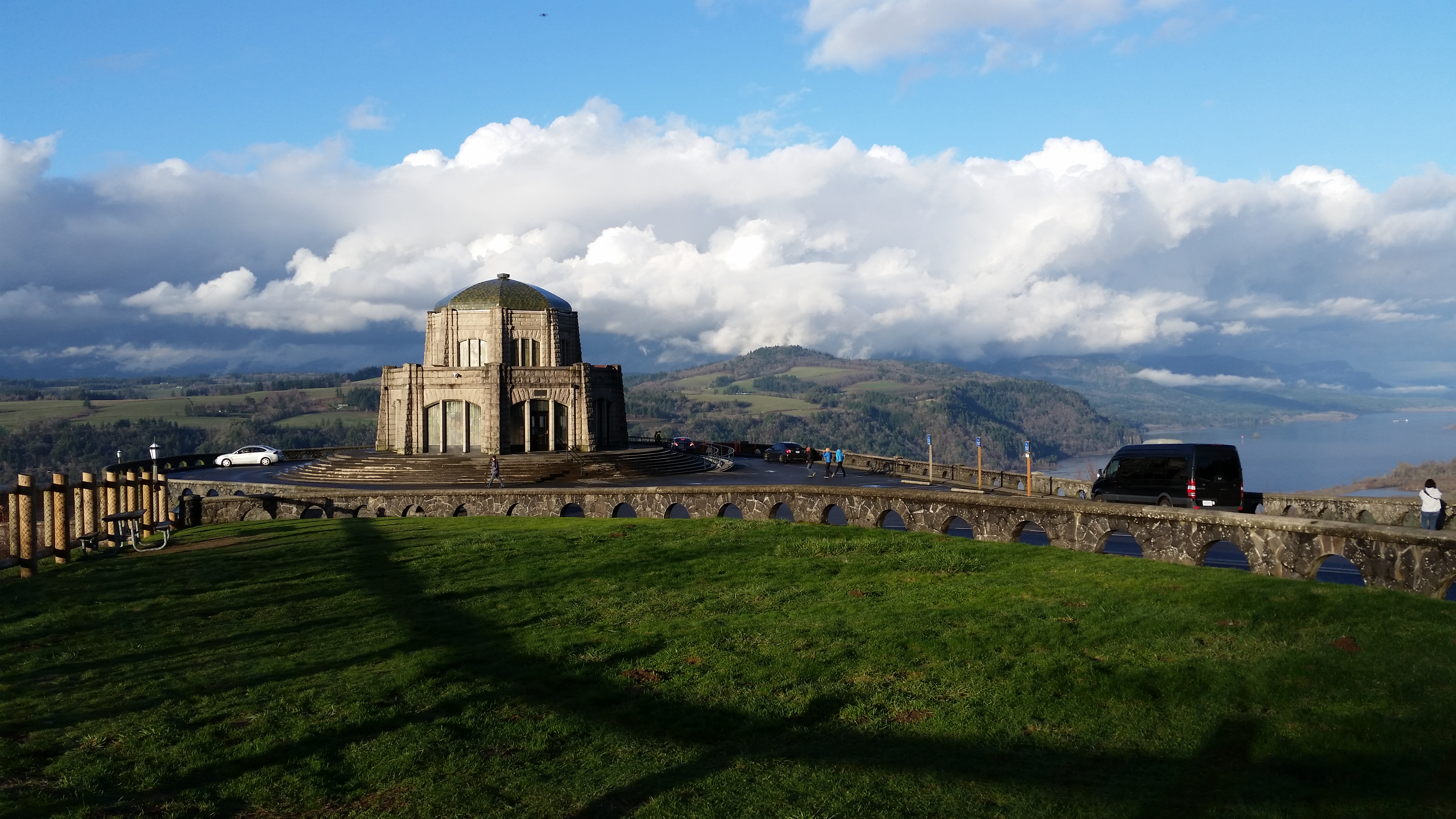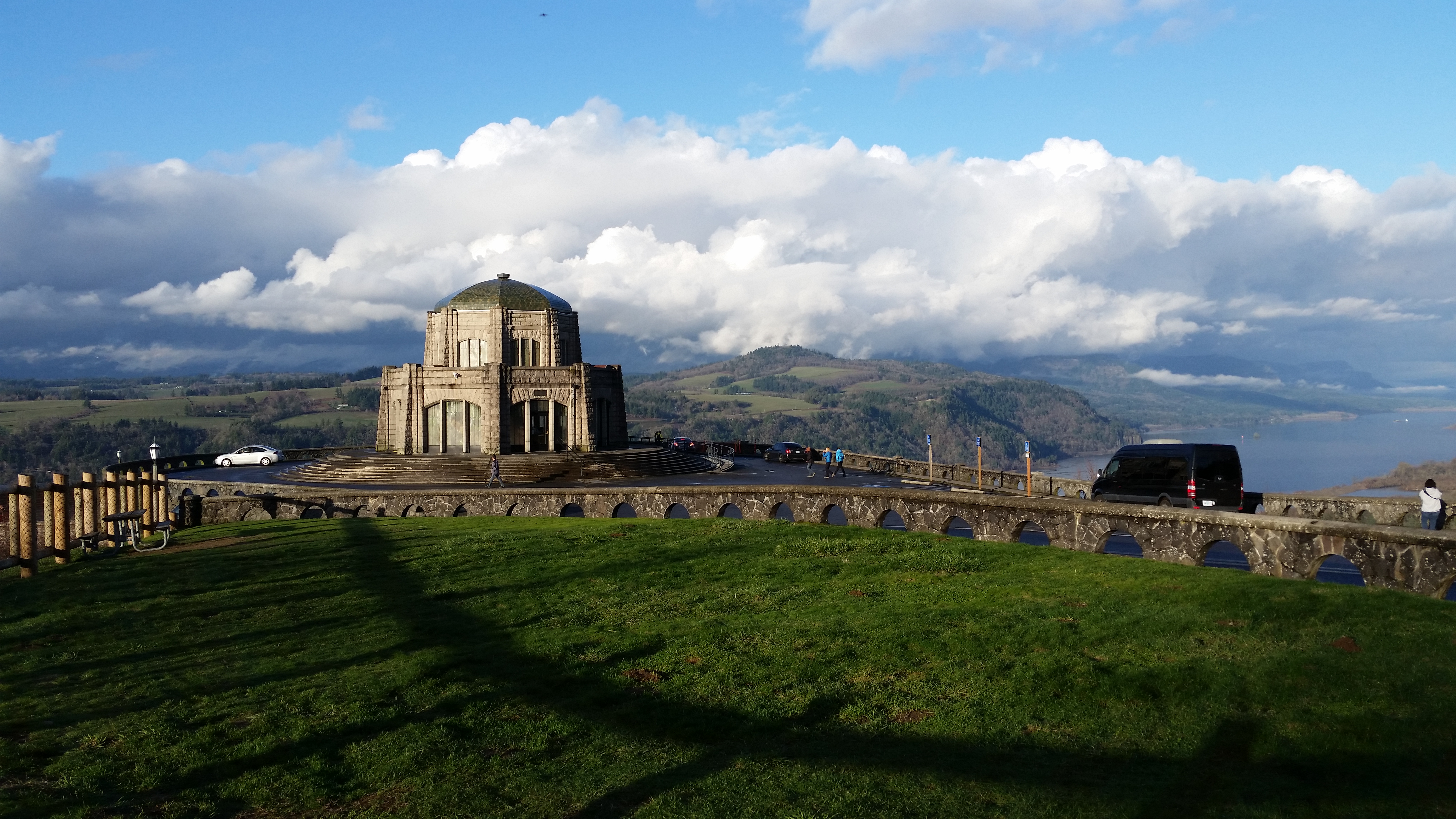 Crown Point Vista : Our first stop is Crown Point Vista House. It is the best known of the scenic lookouts along the Historic Columbia River Highway, providing a panoramic view of the Columbia River. The Crown Point Vista House was built in 1916 and refurbished in 2005, with its beautiful marble interior and brass fixtures completely remodeled. Gift shop and restrooms are available!
Latourell Falls: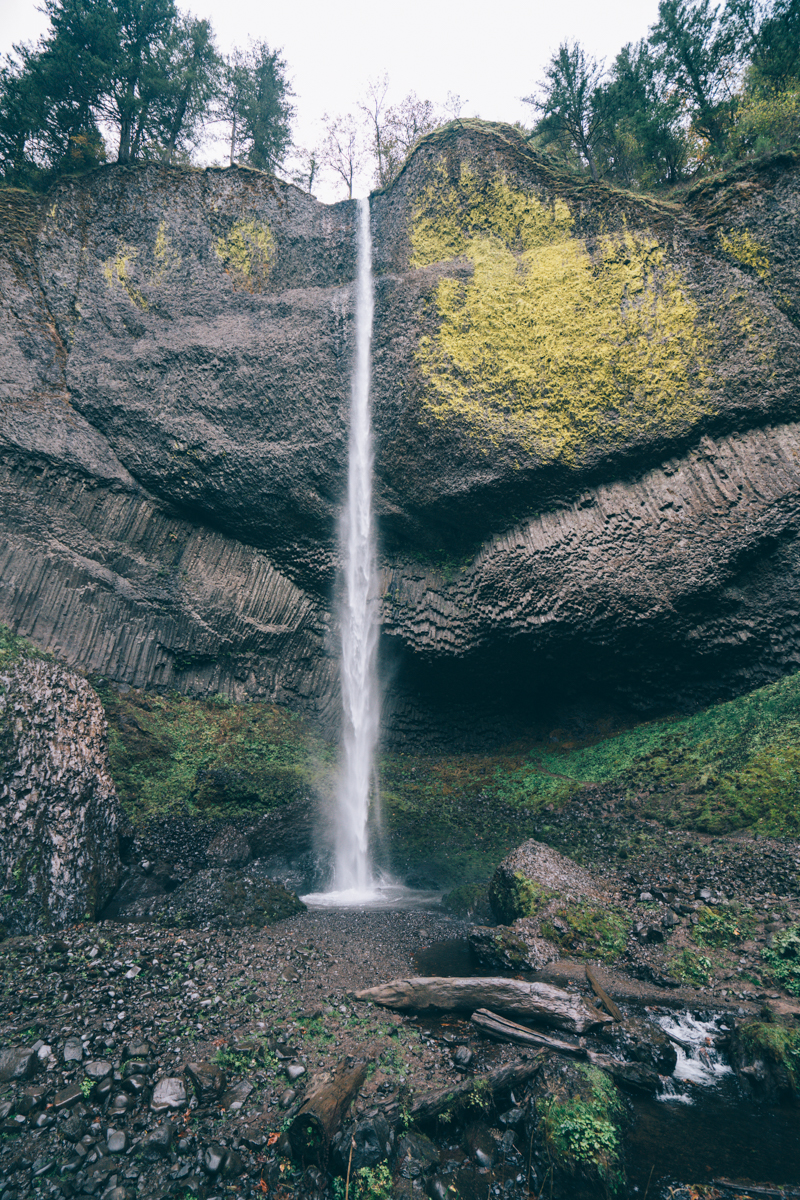 It plunges 249 feet (76 m) over a massive wall of columnar basalt – some of the best formations in the Pacific Northwest – before cascading hastily towards the Columbia River. This waterfall is usually most recognized for the large patch of bright yellow lichen adorning the cliff face to the right of the falls, and this characteristic has led many famous photographers to give this location their treatment. And if you stand in just the right place, and look way up, behind the falls you see another falls! Optional to take a two mile hike for small groups.
Bridal Veil Falls:
The Historic Columbia River Highway passes over Bridal Veil Falls on a bridge. From a parking lot on the highway, a winding footpath and another bridge lead to a vantage point for the falls. The falls consists of two cascades in quick succession along angling rock faces, so when there is a good amount of water the falls looks very much like its namesake. This waterfall is one of the best kept secrets in the Columbia River Gorge. People read about, but rarely get a chance to view the actual waterfall. (Optional short one mile hike round trip for small groups)
Wahkeena Falls:
Wahkeena ("most beautiful" in the Yakima language) (sometimes spelled Wah-kee-na) tumbles 242 feet in a cascading type of falls with 3 plunging falls. Wahkeenah Falls from the stone bridge you can barely see in the picture above. But that's just the part you see here. On up behind this falls is a cascade which flows a long way . . . and then you come to Fairy Falls.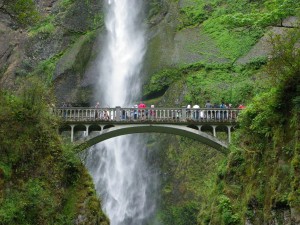 Multnomah Falls: Explore one of the Seven Wonders of Oregon, Multnomah Falls the second highest year-round waterfall in the United States. Nearly two million visitors a year come to see this ancient waterfall, making it Oregon's number one public destination.
Lunch: Optional to stop at Multnomah Falls for lunch…
Horse Tail Falls:  
Words cannot describe the memory that will be forever etched into your memory as you leave the many waterfalls! This is a great waterfall to come back to for a hike or camping in the region.
Bonneville Dam & locks: Keeping with the Historic theme, you will then visit the Bonneville Dam and locks, built in 1937 as a Roosevelt "New Deal" project during the Great Depression. This would be the first hydroelectric dam on the Columbia River. This would also be the first fish ladder for spawning Pacific Salmon. Depending on the season, you may see numerous Chinook, Sockeye or Coho passing through along with Steelhead and Pacific Lamprey's.
In the quaint town of Cascade Locks, we will cross the Columbia River to the Washington side over the Bridge of the Gods. You will learn the Native American legend of the Bridge of the Gods and view Native Americans traditional fishing platforms along the river.
Return to Portland
—————————————————————————————————————————————–Customized and Private Tours: All tours can be customized and/or made private. Please contact us for details and pricing.
Tour Price Includes: Pick up & Drop off, transportation and tour guide. All applicable fees, unless otherwise stated.
Not Included in Price: Gratuity NOT included.
Requirements: Tours require 3 person minimum for confirmation. Please contact us for current status of tour.
Payment: On-line reservations can be made or via phone using a credit or debit card(a processing fee 3% for all credit cards). Payment will be processed immediately to secure your reservation. Payment on day of pick up will not guarantee your reservation. Cash payments are accepted at time of tour.
Reservations: All reservations are final at time of booking. We recommend two weeks in advance for reservations especially during our high volume seasons. Walk-ins please call to confirm departure and availability.
I. Other Entities – AHWT will not be held responsible cancelations, changes to services/fees/price, conduct, of quality of goods and services for entities that operate under any name other than America's Hub World Tours including, but not limited to: vendors, tour operators, vineyards and wineries, event staff, hotels, transportation companies, restaurants and entertainers.
II. Weather – Unless otherwise noted and specified all services are planned to operate regardless of weather. In the event of an "Act of God" and weather presents a safety issue AHWT will offer other suggested tours to consider. There will be no reimbursements, full or partial, for inclement weather experienced during any service provided. It is the responsibility of the guests to be prepared for predicted weather and dress accordingly.
III. Conduct – AHWT assumes no responsibility for conduct of individuals other than its guides/employees/officers.
Indemnify: Except as otherwise prohibited by law each party shall indemnify and hold the other party harmless from all claims, actions, suits, losses, and expenses of any nature for its employees or subcontractors, breach of their agreement, negligence or intentional misconduct.
Insurance: America's Hub World Tours (AHWT), will maintain or provide insurance coverage for all vehicles utilized while providing services.