Days: MON, WED & FRI
Departure Time: 9:00am – 6:00pm
Retail Pricing: $100.00 per person Discounted Pricing: $85.00 per person
Meet point: Departure from Oregon Convention Center (Bus Loading North end of Bldg.-NE Holladay Street)
Includes: Transportation, Professional Tour guide & water
Itinerary Summary:
Oregon's coastline is graced with unforgettable vistas: dramatic cliffs, offshore rocks and sea lions; wide sandy beaches; majestic capes; historic lighthouses; enchanted forests and lovely small beach towns which artists and artisans make their home. You cannot leave without having visited our breathtakingly beautiful Pacific Coast.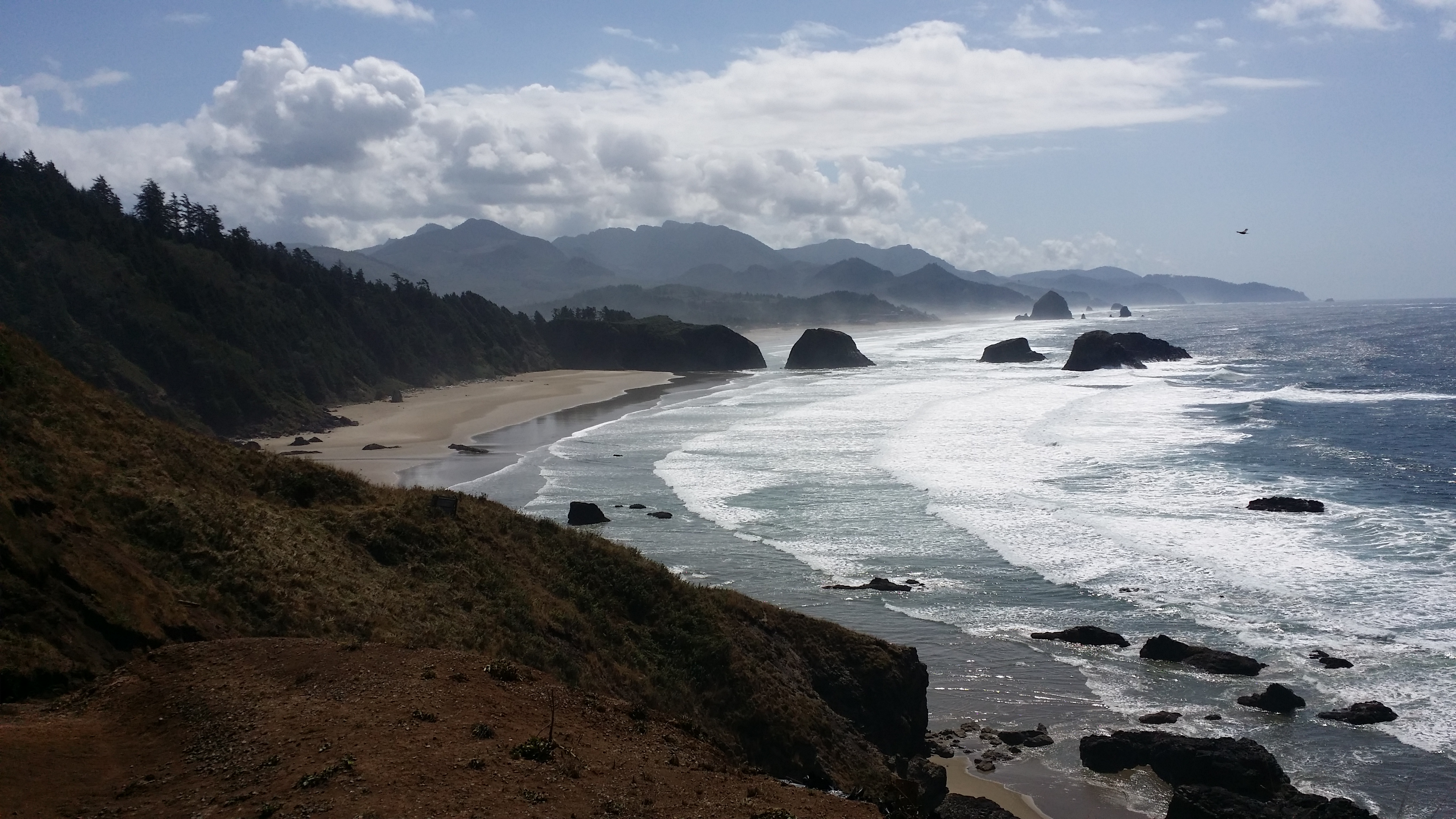 The perfect combination of stunning Oregon Coast and coastal old growth forest filled with Cedars, Douglas firs and giant old growth Sitka Spruce trees! The trees around you represent a timeline of forest succession.
Before we arrive on the Oregon Coast, no tour is complete without a brief stop at the Camp 18 logging museum. Any imaginable logging equipment over the logging era's can be seen on display in a natural environment.
Upon entering Cannon Beach, we will walk on the Beach and some great shops to consider picking up gifts for family or friends.
Cannon Beach, a quaint little beach town with shops, art galleries, restaurants and candy shops. Then take a little time to stroll the cozy main street and stop at the candy shop for fresh made salt water taffy. Depart Cannon Beach with a viewing of the protected Marine Sanctuary Haystack Rock, a large basalt monolift that acts as marine wildlife sanctuary.
Lunch options in Cannon Beach
Head south down the 101 coast highway with dramatic cliff views, picture stop at Neahkahnie Overlook, coastal towns, rivers, bays a short walk through an old growth forest, Oswald State Park to a popular surfing beach only reached by foot with dramatic Old Growth Sitka Spruce trees growing all the way up to the shoreline.
Oswald State Park
Once named Short Sand Beach, the park was renamed  in 1958 at a ceremony honoring former Oregon Governor Oswald West (1873-1960), by whose foresight nearly 400 miles of Oregon shoreline were set aside for public use. Short Sand Beach is located in Smugglers Cove, but there is no evidence of the cove having been used by smugglers. The park is another monument to the acquisition efforts of Parks Superintendent Samuel H. Boardman, who labored hard and long to acquire the principal lands between 1931 and his retirement in 1950.
On our way home this trip would not be complete without a stop at the Tillamook Cheese Factory for samples of cheese, fudge and Tillamook ice cream you can't resist! Drive home will cut through the Tillamook State Forest before dropping down back in the valley and into to Portland.
Tillamook Cheese Factory: Self Guided Tour, cheese samples and opportunity to purchase Tillamook ice cream, yogurt and fudge! The factory is run by the Tillamook County Creamery Association that is a farmer-owned cooperative that was established in 1909. The visitor center opened in 1966 and is one of the most popular tourist attractions in the state with nearly a million visitors a year. T
1851 – The first settlers arrived in the Tillamook Valley and discovered a silver lining to the Oregon coast's cool, wet climate: all those rainy days—coupled with water sources from 5 rivers, 5 bays, and the Pacific Ocean—made for green, green grass. And all that nutritious grass? It turned out to be perfect for raising dairy cows.
6:00pm – Arrive back to Portland
Return to Portland